Since May 2017  when Robert Mueller was named as special counsel for the Russia investigation we have seen everything from what team members he had chosen to every subpoena issued, dominating the headlines. With recent disturbing revelations about a number of members of Mueller's team, and those that have been reassigned or demoted, what hasn't received enough attention is the investigation into improprieties on the part of members of the DOJ and FBI, that has quietly been conducted for nearly 11 months, by the DOJ's Office of the Inspector General (OIG).
In fact, all the recent information about anti-Trump DOJ and FBI employees that has been revealed over the last three weeks, is a direct result of the OIG's investigation into "allegations regarding certain actions by the Department of Justice and the Federal Bureau of Investigation (FBI) in advance of the 2016 election," which began on January 12, 2017.
We know the information on Peter Strzok and Lisa Page came directly as a result of the OIG's investigation, due to a response letter from DOJ Inspector General Michael E. Horowitz, where he was asked by members of congress, "When and how did OIG become aware of the text messages between Peter Strzok and Lisa Page?"
His response: " In gathering evidence for the OIG's ongoing 2016 election review, we requested, consistent with standard practice, that the FBI produce text messages from the FBI-issued phones of certain FBI employees involved in the Clinton email investigation based on search terms we provided. After finding a number of politically-oriented text messages between Page and Strzok, the OIG sought from the FBI all text messages between Strzok and Page from their FBI-issued phones through November 30, 2016, which covered the entire period of the Clinton e-mail server investigation. The FBI produced these text messages on July 20, 2017. Following our review of those text messages, the OIG expanded our request to the FBI to include all text messages between Strzok and Page from November 30, 2016, through the date of the document request, which was July 28, 2017. The OIG received these additional messages on August 10, 2017."
There were five specific issues that OIG agents were charged with investigating with the caveat that the "OIG will consider other issues that may arise during the course of the review."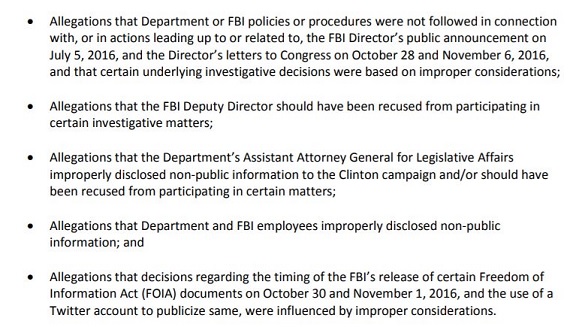 COMEY STATEMENT AND LETTERS TO CONGRESS
Interestingly, the OIG review was called for by members of both sides of the political aisle. Republicans were questioning former FBI director James Comey's July 5, 2016 announcement where he took it upon himself to "recommend" that no charges be brought against Hillary Clinton in the email/private server scandal. Democrats were infuriated over Comey's October 28, 2016 letter to congressannouncing further emails had been discovered that he believed could be relevant to the previous investigation, with Clinton herself and her campaign team blaming that letter, so close to the presidential election, for her loss to Donald Trump. The November 6 letterreferenced in the OIG's release, was a followup by Comey to congress stating the FBI had reviewed a "large volume" of additional Clinton emails and had "not changed our conclusions we expressed in July….."
While the OIG announcement specified a review into procedural issues, considerations and decisions, we now know from the information recently released, the OIG stirred up a hornet's nest, as the investigation has found that aside from discovering that FBI's agents and lawyers, such as Peter Strzok and Lisa Page, were virulently anti-Trump, and pro-Hillary, to the point where they were discussing "paths" forward and some type of "insurance policy" in the event that Trump won the election, it has also been revealed that Strzok was possibly also the man that changed the wording of Comey's July 5, 2016 letter, removing the term "gross negligence" to "extremely careless."
Gross negligence is a "conscious and voluntary disregard of the need to use reasonable care, which is likely to cause foreseeable grave injury or harm to persons, property, or both," which a meets legal threshold for mishandling classified material, as to where using the term "extremely careless," does not.
The federal statute that would have applied had Comey's initial determination of "gross negligence" not been altered by others at the FBI, is 18 U.S. Code § 793 – Gathering, transmitting or losing defense information, Section 793(f), which states: "Whoever, being entrusted with or having lawful possession or control of any document, writing, code book, signal book, sketch, photograph, photographic negative, blueprint, plan, map, model, instrument, appliance, note, or information, relating to the national defense, (1) through gross negligence permits the same to be removed from its proper place of custody or delivered to anyone in violation of his trust, or to be lost, stolen, abstracted, or destroyed, or (2) having knowledge that the same has been illegally removed from its proper place of custody or delivered to anyone in violation of its trust, or lost, or stolen, abstracted, or destroyed, and fails to make prompt report of such loss, theft, abstraction, or destruction to his superior officer— Shall be fined under this title or imprisoned not more than ten years, or both."
We now know from a December 14, 2017 letter from Sen. Ron Johnson, chairman of the Senate Homeland Security and Governmental Affairs Committee, to FBI director Christopher Wray, there were multiple instances where the term "gross negligence" was removed and/or changed and that there were other edits to Comey's original draft which absolved Clinton, leading Johnson to request additional information as to the names of each individual that made those  edits to the original Comey statement.
2017-12-14 RHJ to FBI Re Comey July 5 Statement by TL on Scribd
MCCABE'S CONFLICT OF INTEREST
The next issue was whether the FBI deputy director should have recused himself from participating into certain investigative matters. That would be Andrew McCabe and the investigative matter would be the Hillary Clinton FBI investigation.
According to multiple reports, just days after the Clinton email scandal blew up publicly, "McCabe's wife was approached by longtime Clinton ally Virginia Gov. Terry McAuliffe about running for office, with an offer of some $700,000 in campaign donations," and "later received $292,500 from another Democratic PAC."
Through much of the probe of Clinton's server, McCabe was the assistant director in charge of the bureau's Washington field office and managed resources for the investigation.

He became deputy director while the investigation was still underway, overseeing the entire investigation.
As can be seen in the embedded document above, Comey's original draft letter from for his proposed July 5, 2016 statement was sent to a number of people on May 2, 2016, including Andrew McCabe, a full two months before the FBI had even concluded their interviews, including the subject of the investigation, Hillary Clinton. McCabe forwarded the draft to other agents for edits.
In other words, McCabe had a hand in the editing of the statement that exonerated Hillary Clinton, a decision that had been made before the investigation had even concluded, despite the fact that McCabe had a clear conflict of interest.
DOJ OFFICIAL EMAILS 'HEADS UP' LETTER TO CLINTON CAMPAIGN
The next issue the OIG's office was looking into was the Former Assistant Attorney General for Legislative Affairs at the Department of Justice improperly disclosing non-public information to the Hillary Clinton campaign. That position was held by Peter Kadzik from 2014 to 2017.
The same Peter Kadzik that sent Clinton campaign chairman John Podesta an email on May 19, 2015,  made public by Wikileaks with the release of the Podesta emails, with the subject line of "Heads up."
In that email Kadzik warned Podesta " There is a HJC oversight hearing today where the head of our Civil Division will testify. Likely to get questions on State Department emails. Another filing in the FOIA case went in last night or will go in this am that indicates it will be awhile (2016) before the State Department posts the emails."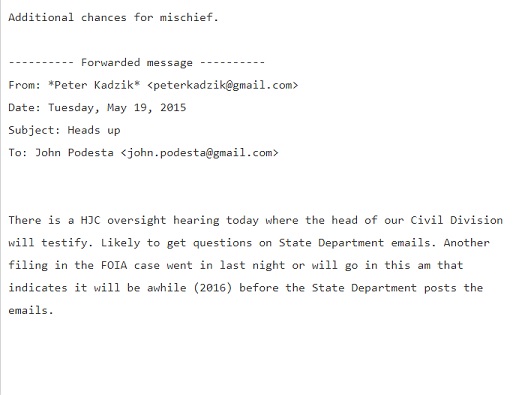 That same day, the email was then forwarded by John Podesta to other Clinton campaign team members with a note saying "Additional chances for mischief."
A search through the Podesta emails for Kadzik's name, shows he was copied in on a number of emails from the Clinton team, as well as telling his son to email John Podesta to "see if there may be an opportunity for me to help on the campaign." That email was forwarded from Podesta to others in the Clinton campaign with a note "Do you need any junior help in hq or states? Peter and Amy's son." (Source- Wikileaks- Podesta Emails)
The relationship between Podesta and Kadzik also included dinner plans together in January 2016. (Source- Wikileaks)
The earliest reference to Kadzik was in 2008, when Podesta emailed cbutts.obama08@gmail.com, subject line "Peter Kadzik," stating "Willing to help. Fantastic lawyer. Kept me out of jail. I'm sure Christine knows him. Wants to help. Think he would be an excellent vet lead," along with a phone number. (Source- Wikileaks)
OTHER MATTERS OIG IS REVIEWING
The last two issues shown in the OIG release of their investigation related to DOJ and FBI members improperly disclosing non-public information, perhaps the constant stream of leaks to the press. The last issue, while part of the review, appears to have a simple explanation and most likely won't be of any concern as in late October, through early November 2016, the FBI Records Vault Twitter page dumped a whole host of FOIA documents after a software update unclogged the system, producing a backlog of documents. Liberals claimed this was done purposely because data on Bill Clinton's pardon of March Rich, as well as information from investigations into the Clinton Foundation was dumped. On the flip side, that dump also included information of Fred C. Trump, the President's deceased father.
BOTTOM LINE
While it is clear from the January 12, 2017 OIG release that "The review will not substitute the OIG's judgment for the judgments made by the FBI or the Department regarding the substantive merits of investigative or prosecutive decisions," any findings of improprieties, if they meet the legal standards, would force a reboot of the entire botched and sabotaged Clinton FBI investigation, as well as outing the deep state actors that have been named to date, and perhaps more by the time the OIG concludes it investigation and issues its report.
Given the information already publicly available, with more coming out almost daily at this point, we now know that the very agent, Peter Strzok, had influence over the Comey letter absolving Clinton of criminality, and who spoke with another FBI lawyer about a "path" to prevent Donald Trump from winning the presidential election while in the office of FBI deputy director Andrew McCabe, and created an "insurance policy" in the event that Trump could be elected, with extreme bias in favor of Hillary Clinton, with other anti-Trump DOJ and FBI officials having already been exposed as being anti-Trump by the OIG investigation, there is sufficient cause to reboot the Hillary Clinton investigation.
The OIG report is expected to be released by late winter or early spring, at which time the FBI, DOJ and the Attorney Generals office will have all the information needed, via that review, to determine whether or not an entire reboot of the Clinton emails/server investigation is warranted because of professional misconduct on the part of rogue deep state agents.
Right now we are witnessing a rolling out of some of the details that will be in the OIG report, and this is just the tip of the iceberg, with some believing this recently released information is to prepare the public for the "explosive revelations" still to come.
Newt Gingrich joins Sean Hannity in the clip below, and we see it may not only be a new investigation into Hillary Clinton, but when all is said and done, Attorney General Jeff Sessions may have to charge and prosecute Jim Comey and the ther rogue DOJ, FBI agents that tampered with a federal investigation in order to let Hillary Clinton off so that she could continue her presidential campaign.