By Ray Starmann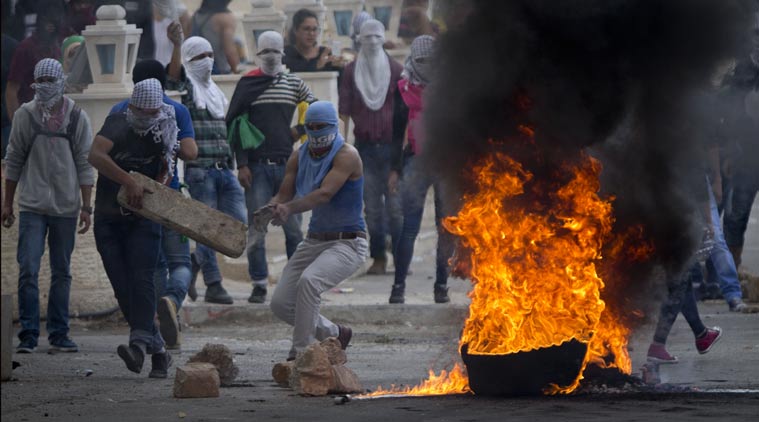 The Obama Administration has angered the government of Israel over comments made by State Department spokesman, Rear Admiral John Kirby, concerning the current crisis with the Palestinians.
As the Jerusalem Post reported today:
Jerusalem reacted furiously on Thursday to State Department spokesman John Kirby's statement that Israel is not maintaining the status quo on the Temple Mount and accusing it of using "disproportionate force" to stop the wave of stabbing attacks.
"The comments by the US State Department spokesman are so crazy, deceitful and baseless, that I expect President [Barack] Obama and US Secretary of State [John] Kerry to distance themselves from them, and to clarify the US position Prime Minister Gilad Erdan said.
Kirby ignited a maelstrom of anger when, during the State Department's daily press briefing on Wednesday, he was asked numerous questions about the situation in Israel.
Asked about the placement of roadblocks at the entrance to some east Jerusalem neighborhoods that day, Kirby said that Israel has a "right and responsibility to protect its citizens."
Then he continued, "We've certainly seen some reports of what many would consider excessive use of force. Obviously we don't like to see that," adding shortly afterward, "We're concerned about that."
Erdan told Israel Radio that it was the "height of hypocrisy" for Kirby, who just last week needed to explain the US's accidental bombing of a hospital in Afghanistan leading to the deaths of 22 people, to "preach" to Israel.
Erdan, in a Twitter message, wrote that "every reasonable person knows very well how the police in the United States would act if terrorists armed with axes and knives would come to kill citizens in New York and Washington."
Defense Minister Moshe Ya'alon said in an Israel Radio interview that Jerusalem heard in the last few days from the US and the UN that it was using disproportionate force. "If someone wields a knife and they kill him, is that excessive force? What are we talking about?" he asked.
And Justice Minister Ayelet Shaked referred to the remarks as well, telling Israel Radio that "if people with knives were roaming the streets of New York and started stabbing people, they would not be asked to present their IDs, and the NYPD would draw their weapons."
The US administration "can say whatever it wants, and we will do what is needed," Shaked said.
While Kirby did not walk back these comments, he did take to Twitter to clarify remarks he made at the press briefing that the status quo on the Temple Mount was not being maintained.
"Clarification from today's briefing: I did not intend to suggest that status quo at Temple Mount/Haram al-Sharif has been broken," he posted in a message early on Thursday morning.
An hour later he added, "We welcome both Israel's & Jordan's commitment to continued maintenance of status quo at Temple Mount/Haram Al-Sharif."
Prime Minister Benjamin Netanyahu has said repeatedly over the past few weeks that Israel has not changed the status quo on the Temple Mount, nor has it any intention of doing so, characterizing Arab charges to the contrary as "lies" and "deceit."
Kirby's comments came shortly after he tried to clarify comments Kerry made on Tuesday night that also irked Jerusalem, implying that Israel's settlement construction caused the current outbreak of terrorism.
Meanwhile, Secretary of State, John Kerry, attempted to douse the conflagration created by Kirby.
Speaking at Indiana University Thursday, Kerry addressed the ongoing violence in Israel, saying that the US had seen its "tragic" effects "on civilians who were just trying to go about their business in Israel, the West Bank, Gaza and Jerusalem."
"We strongly condemn the terrorist attacks against innocent civilians," he declared. "There is simply no justification for these reprehensible attacks and we will continue to support Israel's right to defend its existence."
At the same time, Kerry continued, "it is critically important that calm be restored as soon as possible."
Kerry said that the US "will continue to stress the importance… of working to prevent inflammatory rhetoric, accusations, and actions that could contribute to violence.
"I don't know whether to call them naive, in the US State Department and in the American government," complained Erdan. "Instead of putting out idiotic declarations that pretend to address two equally guilty sides, they [should] focus pressure on the murderous, inciting Palestinian Authority; because of its incitement, young people go out and commit murderous acts."
Israel has rapidly found itself nearly abandoned by its closest ally, the US and flanked by ISIS. Israel is surrounded by the Russians and Assad in Syria and an emboldened and extremely dangerous Iran. Meanwhile, the Palestinian situation could explode into a third Intifada.
Israel may soon have to go on the offensive and not just against the Palestinians, but against much bigger targets that threaten its existence.