By Ray Starmann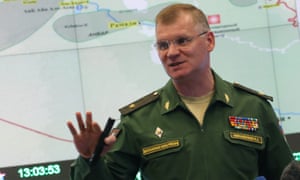 Having conducted two weeks of a continuous around the clock air campaign over Syria, Russia continues to claim that they are indeed striking various ISIS targets in the country as well as the Syrian rebels.
As the International Business Times reported today:
The Russian Air Force has hit 53 Islamic State group targets in a 24-hour bombing frenzy in Syria, claimed Moscow's Defense Ministry Monday. Strongholds of the militant group, also known as ISIS, in the regions of Salma and Latakia were hit, including command centers, training camps and ammunition depots.
"As a result of a pinpoint strike of Su-24M bombers near Salma settlement [in Latakia province], fragmentation air bombs destroyed a large ISIS transfer point with underground facilities and ammunition depots detected by means of space reconnaissance," Maj. Gen. Igor Konashenkov said at a briefing, according to Russian news site Sputnik. "Detonation of munitions caused large fire. The object was completely destroyed."
"Su-34 bombers attacked a militant camp located in the town of Mastumah, Idlib province. According to intelligence data, this camp was used by the IS group as a gathering point for militants arriving from foreign countries," Konashenkov told reporters. "In the area of the Hamah province, a Su-24M bomber destroyed an ISIL underground command center with a KAB-500 guided air bomb. The precision strike eliminated all the engineer facilities of terrorists."
BDA (Battle Damage Assessment) from the Russian Ministry of Defense also reported the following:
#SYRIA: In 24 hrs destroyed: 25 strongpoints 7 HQs 6 training camps 6 ammo depots vehicle column 3 undrgrnd shelters mobile mortar group
RT's coverage of the Russian BDA matched that of IBT in the last 24 hours:
Sukhoi Su-24M and Su-34 bombers, together with Su-25SM ground support aircraft, bombed ISIS positions in the provinces of Idlib, Latakia, Homs and Hama, the Russian Defense Ministry's spokesman, Igor Konashenkov, told journalists.
The airstrikes destroyed seven command points, six training camps, six arms depots and a stronghold near the village of Salma in Latakia province.
Also in Hama province, a Sukhoi Su-24M deployed a guided KAB-500 air bomb and destroyed an Islamic State fortified command post.
"A pinpoint strike demolished all [engineering] installations of the terrorists," Konashenkov reported.
An airstrike on a terrorist target near the village of Al-Mastumah in Syria's northern Idlib province destroyed an Islamic State installation used as a transfer point for militants coming to Syria from other countries.
On Sunday, October 11th, The Guardian reported information that strongly contradicted the Russian reports:
Rebels in the vicinity of the regime strongholds of Tartous and Latakia, and the nearby Alawite hinterland, have been hit especially hard in the Russian offensive which was touted as a campaign against Isis, but which the US, Nato, and rebel groups claim has almost exclusively targeted non-jihadi opposition groups.
Other rebel groups in Idlib province have also been pounded and fear that Russia's strategy is to destroy the opposition, leaving only the regime army and Isis standing. The Russian offensive west of Aleppo has stymied an opposition squeeze on the city. Meanwhile, Isis's moves since Thursday have seen the terror group gain more ground than it had in many months.
"While the Russians were busy attacking us, they left [Isis] completely alone. Do I really need to spell out what's behind all that?" asked Abu Saleh, a commander of an Islamist group near the town of Hreitan.
A member of the Syrian rebels told The Guardian, "These Russian warplanes say they are targeting Daesh [Isis]," he added. "Well, we have not had Daesh here in over a year. Marea [which Isis is besieging] is 60km away. And al-Bab [which it controls] is over 100km away. The bombing is targeting civilians. And where are the people going to go? I leave this question to be answered by the people who still have a conscience."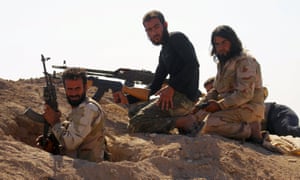 With these constant Russian claims, reports, videos and briefings showing the Russian Air Force bombing ISIS targets, the State Department as reported by The Guardian last week stated that a large majority of Russia's military strikes in Syria have not been aimed at the Islamic State group or jihadists tied to al-Qaida, and have instead targeted the moderate Syrian opposition, the US State Department said on Wednesday.
According to Rear Admiral Kirby, "Greater than 90% of the strikes that we've seen them take to date have not been against Isil or al-Qaida-affiliated terrorists."
Since last week, the Pentagon has been relatively silent on the subject and appears more concerned about the threat of air to air incidents over Syria. They've requested more talks with the Russians about the issue.
Meanwhile, with Russia apparently attacking ISIS targets, ISIS went on the offensive on October 10th and seized territory in Aleppo province controlled by the Syrian rebels. The Aleppo rebels had been pounded from the air by the Russians.
It is obvious that the Russians are indeed bombing the Syrian rebels, but they are also attacking ISIS targets as well. As the days go by and the damage from Russian bombs begins to cripple ISIS, Americans and indeed the world must wonder what was Operation Inherent Resolve, the failed US led air campaign against ISIS all about?