By Ray Starmann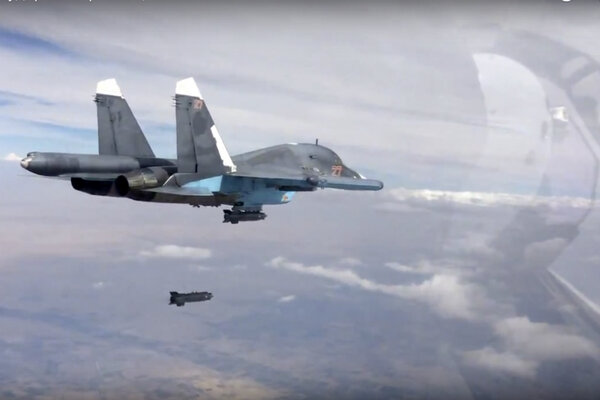 Russia announced today that they have destroyed 456 ISIS targets in Syria.
As the Times of India reports:
"Since the Russian air force went into action on September 30, we made 669 combat sorties," Colonel General Andrei Kartapolov, a senior Russian general staff official said in a defence ministry statement. "In the strikes, 456 targets have been destroyed," he said. "According to the general staff, we were able to significantly disrupt the militants' infrastructure, supply and control systems of the terrorist groups."
Kartapolov said the air force is avoiding areas where the Free Syrian Army — the main western-backed opposition force — is believed to be operating. "We only hit targets of internationally-recognized terrorist groups. Our planes are not working in southern Syria, where, according to our information, the Free Syrian Army groups are located," he said.
Moscow's military has systematically claimed its strikes have hit Islamic State group targets despite the fact that many of the sites struck seem to fall outside territory held by the group. The United States and other members of a rival coalition targeting ISIS say Moscow has focused the bulk of its firepower on other rebel groups battling Assad.
In an interview with Komsomolskaya Pravda newspaper, Kartapolov slammed the US-led coalition, saying Washington had not responded to Russia's invitation to cooperate in the fight against ISIS.
"They consider it humiliating to admit that they cannot fulfill a task they had set out for themselves one year ago without Russia," Kartapolov said, slamming the coalition's yearlong bombing campaign as "window dressing".
"They are in fact unlikely to have the necessary amount of information about ISIS targets, which the results of their strikes reflects," he said.
Speaking at a regional summit in Kazakhstan on Friday, Russian President Vladimir Putin meanwhile praised the Russian campaign, saying the strikes had "destroyed dozens of command posts, munitions depots, hundreds of terrorists and a large amount of military hardware".
The Russian defence ministry said on Friday that the latest air strikes had created "favourable conditions" for a Syrian ground offensive and destroyed two ISIS command posts in Aleppo province, among other targets.
Kartapolov said that Russia — which already has a naval facility in the port city of Tartus and uses an airfield in Latakia — could build a full-fledged Russian military base in the country.
Western sources argue that most Russian air strikes have been directed not at the generally acknowledged enemy, the self-declared Islamic State, but  against "moderate" rebels. Those forces have been fighting to overthrow the minority-led dictatorship of Bashar al-Assad for almost four years, with assistance from the CIA, Turkey, and Persian Gulf states. The US Central Command has even alleged that Russian air strikes are actually enabling IS to gain ground by weakening other rebel formations that are opposed to the extremists.
Meanwhile, the Russians keep reiterating that their goal in Syria is the destruction of ISIS.
The aim of Russia's military operation in Syria is not to keep President Bashar al-Assad in power but to defeat Islamic State (ISIS) jihadists, Russian Prime Minister Dmitry Medvedev said on Saturday.
"Russia, the United States, and all other states that have a stake in seeing peace in this region and in Syria, and a strong government, too, should be discussing precisely political issues," Medvedev said in an interview with Rossiya TV channel.
It does not really matter who will be at the helm. We don't want ISIS to run Syria, do we? It should be a civilized and legitimate government. This is what we need to discuss," Medvedev said.
Asked whether Syria had to be ruled by Assad, Medvedev said: "No, absolutely not. It is up to the Syrian people to decide who will be the head of Syria … At the moment, we operate on the premise that al-Assad is the legitimate president."
The idea that the Russians want free elections in Syria is laughable. The Russians are not in Syria to destroy ISIS. They're in Syria to keep Assad in power.
If the Pentagon wants to seriously refute the Russians ISIS BDA (Battle Damage Assessment) claims they need to do more than simply say they aren't true. They can bring Rear Admiral Kirby back from the State Department and roll out his dog and pony light show. Then and only then will the US be able to convince the world that as usual, the Russians are lying. Until then, the maskirovka will keep on rolling.