By Morris Schaffer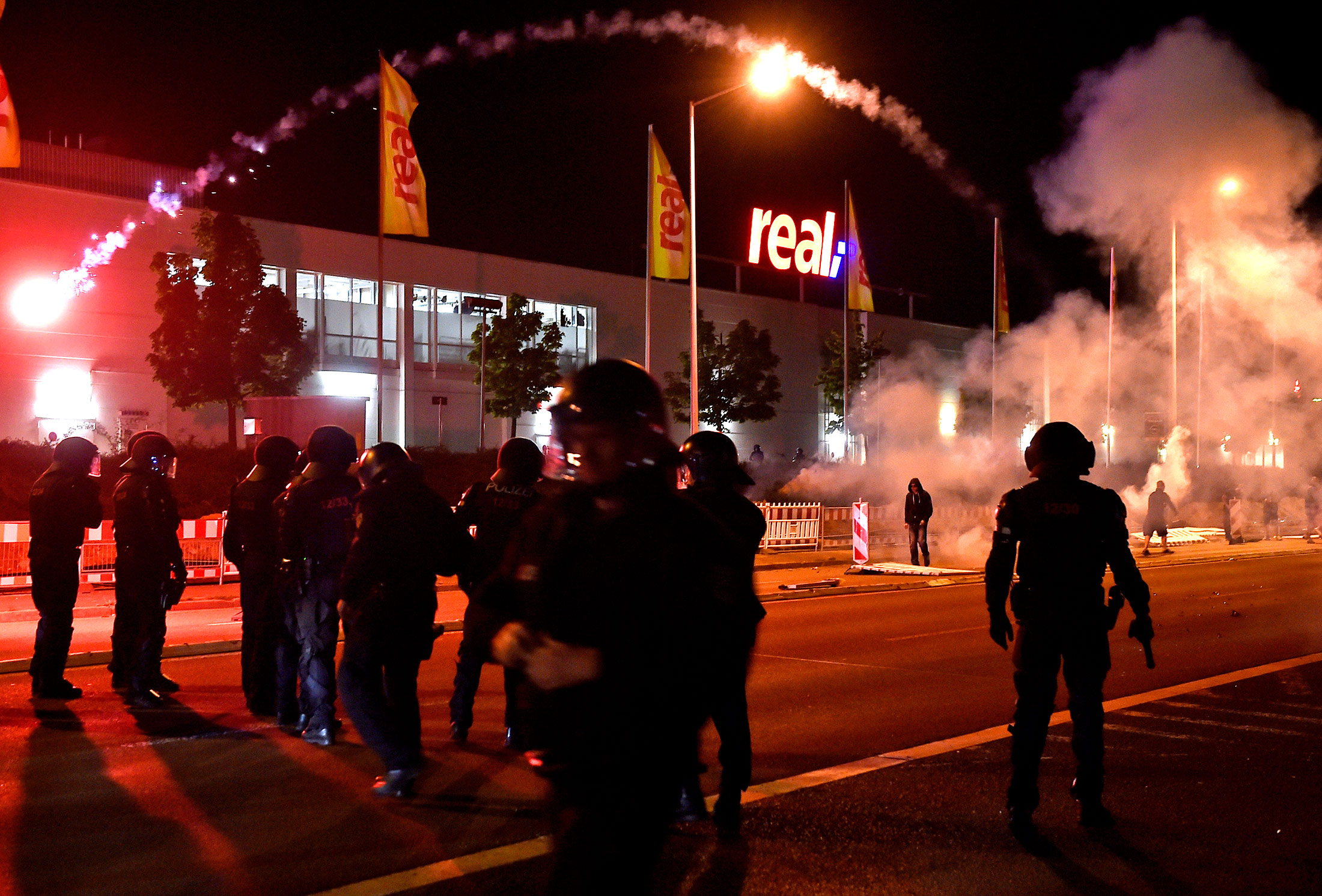 For the next few weeks, US Defense Watch plans to post regular articles on the ongoing migrant crisis in Germany and the chaos that has resulted from Chancellor Merkel's decision to allow 1.5 million Middle Eastern refugees into the country.
From the UK Express this morning:
REFUGEES are reportedly taunting police by posting pictures of stolen goods including cameras and laptops on social media.
The pick-pocketing teenagers – dubbed the 'klau-kids' by German media – have also shown off designer sunglasses, cameras and cash on Facebook.
Many are waiting for their asylum claims to be processed amid the biggest migration crisis since the Second World War.
But the crimes are unlikely to affect their applications because they are considered to be minors under German law, according to reports.
Bodo Pflazgraf of Germany's police union said it is "incomprehensible" that serial offenders are not detained.
A story that affects not only Germany, but all of Europe, from Agence France Presse:
Fears are growing that "shabiha" militiamen accused of committing some of the most barbaric atrocities against Syrian civilians for President Bashar al-Assad's regime are arriving incognito in Europe and getting asylum.
The prospect has sent shivers downs the spines of Syrians who fled the war-torn country, as indications pile up that thugs who tortured on behalf of Assad have slipped into the flow of refugees arriving in Europe.
"Today, there are war criminals who find refuge in France and in Europe," Ziad al-Isa — a Franco-Syrian doctor who is part of the UOSSM disaster relief grouping — recently told French lawmakers.
Predominantly Alawites — the confession of the Assad clan –, "shabiha" are the hugely feared tools of a regime that is responsible for nearly 80 percent of the 250,000 deaths in the conflict that kicked off in 2011, rights groups say.
Speaking on condition of anonymity, a Syrian employee of an international NGO told AFP they had spotted several of these former pro-regime militiamen while on assignment on the Greek island of Kos at the end of September.
Members of the same family from the northwestern city of Tartus, they were among a group of migrants who had just arrived from Turkey.
"We too are war victims," one of them said, under the hostile glares of his countrymen.
Half of the close to 600,000 migrants who have come to Europe this year via the Mediterranean are Syrians, according to the United Nations, and many come directly from the country — not just refugee camps in neighbouring states — including regions controlled by the regime.
From Reuters:
German Chancellor Angela Merkel stressed Turkey's "key role" in solving Europe's refugee crisis ahead of a weekend visit to Ankara, as her government tightened asylum rules on Thursday to stem an influx of new arrivals.
With a bitterly divided EU struggling to cope with hundreds of thousands of people fleeing war and poverty in the Middle East, Asia and Africa, securing cooperation of non-member Turkey is seen as increasingly central to managing the problem.
Merkel, facing pressure from her own conservatives to take a harder line on refugees, described the challenge of dealing with the migrant crisis as a "historic task" and said the European Union should do more to help Ankara deal with the influx.
Whether Chancellor Merkel will heed the warnings of her own party is unknown yet. Germany must begin to take a hard line with migrants who are committing crimes and with migrants making absurd demands upon local populations. Germany, itself, must realize that generosity does not mean destruction.
In the following video, from a Czech TV station, a newscaster reads a report from a Czech doctor working in a German hospital.